Dinosaur Research Institute
Support / Get Involved
Fundraising Dinner
DRI will be holding its annual fundraising dinner, Nov. 9 2013. It will be held at the Earl Grey Golf Club at 6540-20th Street S.W. Calgary .
We will host 150 guests for a sit-down dinner, silent auction, displays and presentations by students and palaeontologists
Individual tickets are $150.00 per person and a tax receipt will be provided for a significant portion of the ticket price. For more information or tickets, please contact us.
Buy a T-shirt
The DRI is selling T-Shirts designed by paleo artist Michael Skrepnick. T-Shirts come in Small, Med. Large, and X-Large.
Price is $20.00 Can plus shipping and handling. Please email us for the exact postage cost.
Click on picture to enlarge, click Back to return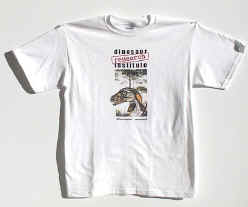 How You Can Help
Donations. DRI will issue charitable tax receipts for all donations over $50.00.

Volunteer

Be a participant on a Dinotour

Buy a T-shirt designed by paleo artist Michael Skrepnick or purchase a book authored by Dr. Phil Currie and Dr. Eva Koppelhus
If you are interested in joining or finding out more, just email us:
=> By Email
This page last modified on... February 11, 2013